Turkish Citizenship by Investment
You can accomplish several goals by buying a house in Turkey. The most common way of obtaining Turkish citizenship is buying property in Turkey, which has a lot of benefits. By the end of 2018, Turkey earned more than 250 citizenship applications via investment worth approximately $100 million. Applications for citizenship in Turkey are predicted to increase as the country has simplified its requirements in 2019. A large number of foreigners coming to Turkey aim to take advantage of the right of citizenship by buying houses. Statistics show that people from Arab countries and Iran show more interest in buying properties in Turkey.
 The minimum amount of investment has decreased recently from one million dollars to 250,000 USD. The Turkish government believes that the applied changes in the program's policy will benefit the investors as it lowers the risks for the foreigners. The new rules have facilitated acquiring Turkish citizenship for those who intend to buy a property. These people are required to get a land registration certificate, with the annotation of sale ban for at least 3 years, from the Ministry of Environment and Urbanization. So, what are the advantages of investing in Turkey? Find some of the benefits in the following.
Advantages of Buying A Property in Turkey
Other benefits include the multicultural environment, low cost of living, rich history as well as easy and reliable investment process.
Benefits of Turkey Citizenship Program
No language requirements
Access to 118 countries without a visa
Citizenship approval in less than six months
No obligation to renounce current nationality
The rapid application process, obtaining residency within three weeks
Being able to open bank accounts at international banks around the world
Turkey's Residential Market Overview
How to Get Turkish Citizenship?
---
As you know, each immigration program has its criteria and will only accept eligible applicants. Being aware of these conditions is essential for investors. Hence, in the following, we have provided a summary of the documents required to obtain Turkish citizenship by investing in real estate, for the owner, spouse, and children under the age of 18.
Documents Needed to Acquire A Residence Permit
Documents Required to Obtain Turkish Citizenship
Application form
The property title deed
Notarized translation of the passports of the whole family
Property appraisal report (matching the date of the title deed, not exceeding the value stated in the title deed).

The report can be obtained within two or three working days, from an authorized assessment company in Turkey.

A notarized letter of consent from husband/wife for the children under the age of 18.
Civil status documents, such as marriage certificate
Birth certificates
Family/Household registry book
Biometric photos of the whole family
Receipts that show the purchase price of the property is paid, and transferred from the buyer's account to the seller's account. These receipts are:
The one from the buyer's account signed and stamped by the bank
The one from the seller's account signed and stamped by the bank
Other Investment Methods for Acquiring Turkish Citizenship
According to the recent amendment of the regulation on the enforcement of the Turkish citizenship law, foreigners can acquire Turkish citizenship with their family by investing USD 250,000 in real estate. Besides, foreigners who satisfy at least one of the following investment options would be able to obtain Turkish Citizenship as well.
Making a fixed capital investment of at least USD 500,000, confirmed by the Ministry of Treasury and Finance.
Creating jobs for at least 50 employees, confirmed by the Ministry of Family, Labor, and Social Services.
Depositing at least USD 500,000 to the banks operating in Turkey, and keeping the deposit for 3 years in such banks. The Banking Regulation and Supervision Agency must confirm the deposit.
Buying public debt instruments worth at least USD 500,000 and retaining them for 3 years. The Ministry of Treasury and Finance must confirm the purchase.
Buying shares in private equity or shares of venture capital fund for at least USD 500,000 and retaining such shares for 3 years. The Capital Markets Board must confirm it.
Excellent Geographical Location of Turkey
 Turkey lies between the Aegean, Mediterranean, and the Black Sea. It shares borders with Bulgaria, Georgia, Syria, and Greece. It links Asia and Europe, enabling immigrants to experience a mixture of Eastern and Western cultures. Turkey's geographical location has much to offer to investors. It is an essential transport corridor, providing excellent access to global trade routes by air, land, and sea. Moreover, Turkey has easy access to Europe, Asia, and North Africa. It is easy to travel from Istanbul, which has two fully connected international airports, meaning that you are no more than 4 hours away from most parts of Europe and the Middle Eastern destinations.
Turkey's Young Population
Turkey's population was approximately 82 million in 2018, with an average age of 32. Compared to Europe, Turkey's population is younger and continues to grow. Moreover, the labor market, which comprises 68 percent of the population, is highly skilled. And it has made the population into a dynamic, useful resource.
Turkey is rapidly becoming an international destination, considered by people who want to move to other countries to seek a better quality of life. It has also attracted the attention of media, as it is providing a more positive image to its visitors and potential foreign residents. Turkey is a member of the United Nations, NATO and the European Union. Political reforms which have taken place over the past ten years have strengthened Turkey's democratic situation as well as the economy, making it an attractive destination for immigrants.
Growing Economy of Turkey
The economic and social performance of Turkey has been remarkable since 2000, leading to increased employment and incomes. Macroeconomic strategy, prudent fiscal policies, and crucial structural reforms have all helped the Turkish economy integrate into the global economy. Besides, the unprecedented growth of the Turkish economy, during 2003 to 2018, has risen the country's ranking in the world, from 18th to 13th.
Turkey has set a growth target of 6% for the coming year. The Treasury and Finance Minister Berat Albayrak believes that the fundamentals of the Turkish economy are strong. Hence, one million new jobs will be created from 2020 to 2022, and unemployment rates would decrease gradually as well. According to the OECD, Turkey will be one of the fastest-growing economies in the period of 2019-2029. Also, tangible progress in Turkey's economy has increased foreign trade. Export reached 168 billion USD at the end of 2018, while in 2002, it was about 36 billion USD. Tourism revenue, which was about 14 billion USD in 2003, exceeded 29 billion dollars in 2018. The remarkable progress of the Turkish economy in this short period has made it an exceptional emerging economy on a global scale. Turkish economy is the 13th largest in the world and is seventh in economic terms among EU countries.
Turkey- An Immigrant-Friendly Country
Changes in Turkey's lifestyle over the past 15 years, low cost of living, as well as highly developed life standards have turned out Turkey to be an immigrant-friendly country.
High quality of life in Turkey
Turkey ranked seventh in the world after New Zealand and Australia as the best country to live and work, according to a British HSBC survey.  In a list with Switzerland on the top, Turkey provides a better environment for foreigners, before Germany, the United Arab Emirates (UAE) and Vietnam. The survey shows that Turkey has risen from 22nd place to the 7th. The 12th survey, which is considered one of the most comprehensive ones, examines countries in terms of quality of life, work, income, and family life.
In addition to the quality of work and life, Turkey also offers unique opportunities for foreigners to study abroad at good universities. You can find some of the benefits of studying in Turkey in the following.
Advantages of Studying in Turkey
---
With a sense of quality education, successful teaching staff, and an integrated education system, Turkish universities with worldwide credibility offer higher education far above standards. As a result, students will quickly climb the ladder of success, getting ready for both life and careers.
Economic Education Opportunity
Compared to the countries of the region, Turkey has shown an advanced and secure image. It also provides better economic conditions for foreigners to study in comparison with Europe and the United States.
Internationally Accredited Diploma Programs
Degrees of international students studying at Turkish universities are valid and are recognized in many cities in Europe, America and the world.
Student Focused, Modern and Equipped Universities
Public and private universities in Turkey have extensive, comfortable, and well-equipped learning environments. They provide opportunities for students to access the information they need. Facilities such as libraries, laboratories, and student clubs also help students complete their higher education successfully.
Accommodation, Nutrition and Accessible Transportation
Housing, nutrition, and transportation facilities, which are among the most basic needs of students, are met by Turkey's developed and unique system. Some universities also offer counseling services to help students adapt to the lifestyle in Turkey more quickly.
Best Cities To Live in Turkey
Considering the cost of living, recreation, weather, security and quality of life, Turkey's best cities to live in are as follows: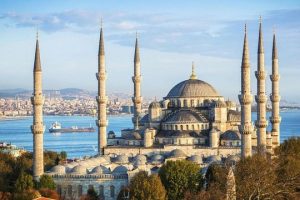 Istanbul
Antalya
Izmir
Gaziantep
Konya
Alanya